Tangerine World Mastercard: $60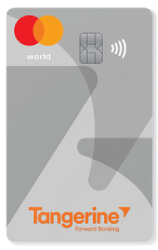 Receive $60 cash back via Interac e-Transfer if your application is approved.
No annual fee
2% money back in up to 3 categories* of your choice
No limit on the amount of Money-Back Rewards you can earn
Change your 2% Money-Back Categories to suit your spending
Free cards for Authorized Users on your Account
Supports Apple Pay, Google Pay, and Samsung Pay
Purchase Assurance and Extended Warranty
Rental Car Collision/Loss Damage Insurance
Mobile Device Insurance
Mastercard® Airport Experiences Provided by LoungeKey
Requirements:
You must not have signed up for a Tangerine World Mastercard before
You must follow the link from this site and apply for a Tangerine World Mastercard within the same browser session
* Earn 2% Money-Back Rewards on purchases in two 2% Money-Back Categories of your choice, and 0.50% Money-Back Rewards on all other purchases. Have your Money-Back Rewards deposited into a Tangerine Savings Account, and get a 3rd 2% Money-Back Category. Money-Back Rewards are earned automatically and paid monthly, and can either be applied towards your Credit Card balance or redeemed into your Savings Account.
Applicants will have to consent to a credit check as part of the application process. Accounts must be in Good Standing in order to receive Money-Back Rewards.
The $60 cash back offer is not funded by Tangerine. If you have any queries related to this offer, please contact High Interest Savings Cash Back.