HSBC World Elite Mastercard: $105 via Interac e-Transfer or $105 Amazon.ca gift card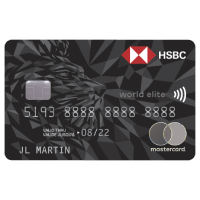 Choose to receive either $105 via Interac e-Transfer or a $105 Amazon.ca gift card if your application is approved.
Earn up to 80,000 Points* ($400 travel value) PLUS a full annual fee rebate for the Primary Cardholder for the first year ($149 value). Must apply by October 31, 2022. Conditions Apply.

Welcome Bonus of 20,000 Points ($100 travel value)
Spend $6,000 in the first 180 days to earn an additional 40,000 Points ($200 travel value)
Receive an additional 20,000 Points ($100 travel value) as an Anniversary Bonus
Annual Fee Rebate for the Primary Cardholder for the first year ($149 value)
Receive a $100 annual travel enhancement credit*
Requirements:
You must follow the link from this site and apply for an HSBC World Elite Mastercard before within the same browser session
If the application session expires, you must restart your application, beginning by clicking through the link available through High Interest Savings.
Cash Back Rebate will be paid by High Interest Savings following the later of: (a) 90 days after online application approval, and (b) activation of the Card by the Cardholder.
Cash Back Rebate is provided only for applications that started, and are approved, online
Cash Back Rebate is for new/first time HSBC Mastercard Card Members only.
You must not have held an HSBC account or credit card before
HSBC Bank Canada is not responsible or liable for any aspect of the cash back rebate offer.
Cash Back Offer may end at any time at the discretion of High Interest Savings.
Cash Back Offer available to High Interest Savings members only.
To report missing Cash Back, you must contact High Interest Savings within 4 months of online application approval, otherwise the Cash Back is void.
To ensure that you receive your Cash Back, please save a screenshot of the online application completion page, including the address bar, clearly indicating that the application to the Card has been approved. In the event that you need to report the rebate as missing, the screenshot will help expedite the approval of your request. High Interest Savings reserves the right to approve or decline reports of missing rebates.
Primary Cardholder Annual Fee: $149
Annual Interest on Purchases: 19.9%
Annual Interest on Cash Advances and Balance Transfers: 22.9%
Authorized User Annual Fee: $50 Per Card
*Terms and Conditions apply
®/TM Mastercard and World Elite are registered trademarks, and the circles design is a trademark of Mastercard International Incorporated. Used pursuant to licence.
This offer is only available to residents of Canada other than the province of Quebec (Quebec residents eligible for separate offer).
The $105 cash back and $105 Amazon.ca gift card are not funded by HSBC. If you have any queries related to this offer, please contact High Interest Savings Cash Back.