National Bank World Mastercard: $60 via Interac e-Transfer or $65 Amazon.ca gift card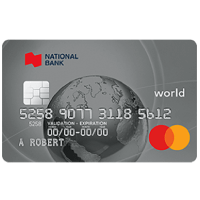 Choose to receive either $60 via Interac e-Transfer or an $65 Amazon.ca gift card if your application is approved.
No annual fee for the primary card for the first year*; $115 annual fee after that
15,000 bonus reward points if you spend at least $3,000 in the first 3 months*
Earn up to 2 points on ALL card purchases* without restrictions*
Travel rewards you can benefit from during your next trip abroad or for your vacation closer to home, for example for a car rental
Your points can be exchanged towards a wide range of articles and gift-cards, a payment on your credit card balance or a donation to a good cause
Purchase protection such as purchase insurance, extended warranty on your purchases and fraud protection
Requirements:
You must not have signed up for a National Bank World Mastercard before
You must follow the link from this site and apply for a National Bank World Mastercard within the same browser session
*Offer for new cardholders, valid from September 20, 2021 to December 20, 2021 for National Bank Platinum, World and World Elite® Mastercard® credit cards. To take advantage of this offer, you must sign up for an eligible National Bank credit card by December 20, 2021. Credit card is issued subject to credit approval by National Bank of Canada, conditions apply, visit nbc.ca/mastercard-offers.
The annual fees for the card will be refunded for the first year (for the main cardholder). They will appear as a charge and credit on the second or third statement after the account is opened.
You will get 15,000 rewards points if $3,000 in net purchases or more are charged to the credit card account within the first three months following enrolment. The bonus rewards points under this promotion will be credited to the credit card account in a single payment no later than the 5th statement following the account opening. The net purchases charged to your card are calculated over a period of three months, starting at account opening. For example, if the account is opened October 15, 2021 the account holder will have until January 15, 2022 to charge the required amount of purchases to the account and obtain the bonus rewards points.
The account must be in good standing at the time the annual fees are refunded and bonus rewards points are applied.
The promotion does not apply to additional cards. It cannot be combined with any other National Bank credit card promotion. Employees of National Bank and its subsidiaries and entities are not eligible for the offer. The promotion may be modified, extended or cancelled, without prior notice, at any time.
The $60 cash back and $65 Amazon.ca gift card are not funded by National Bank. If you have any queries related to this offer, please contact High Interest Savings Cash Back.