MogoCard: $20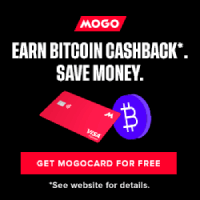 Receive $20 cash back for ordering a MogoCard (Mogo Visa Platinum Prepaid Card).
Earn 1% bitcoin cashback on purchases in Canada and 2% for foreign transactions.
No annual or monthly fee.
For every $1 spent with Mogo, a pound of CO2 will be offset for free through Mogo's Amazon Rainforest project.
Requirements:
You must not have signed up for a Mogo account before
You must register for an account at Mogo and order a MogoCard
You must follow the link from this site and register with Mogo within the same browser session