Tangerine World Mastercard: $45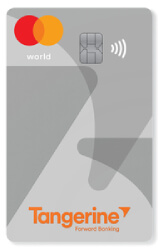 Receive $45 cash back if your application is approved.
Earn a $250 bonus with your Tangerine credit card when you spend at least $5,000 in the first 3 months, on top of the standard Money-Back rewards you would regularly earn*. This includes 2% money back in up to 3 categories** of your choice.
No annual fee
No limit on the amount of Money-Back Rewards you can earn
Change your 2% Money-Back Categories to suit your spending
Free cards for Authorized Users on your Account
Supports Apple Pay, Google Pay, and Samsung Pay
Purchase Assurance and Extended Warranty
Rental Car Collision/Loss Damage Insurance
Mobile Device Insurance
Mastercard® Airport Experiences Provided by LoungeKey
Requirements:
You must not have signed up for a Tangerine World Mastercard before
You must follow the link from this site and apply for a Tangerine World Mastercard within the same browser session
* Rewards Promotional Offer: The Tangerine $250 Limited Time Bonus Offer (the "Offer") is only available to new Tangerine Credit Card Account holders who apply between February 1, 2020 and March 31, 2020 and (i) activate their Credit Card (the "Account") within 45 days of approval, and (ii) have at least $5,000 in Net Purchases posted to their Account within 92 days from the Account open date. "Net Purchases" include purchases charged to the Account (less any refunds, returns or other similar credits) but do not include payments, Cash Advances (including Balance Transfers and Cash-Like Transactions), interest, fees, insurance premiums, adjustments or other charges. The $250 will be credited to the Primary Cardholder's Account within 1-2 statement cycles after the 92-day promotional period provided the Account is open and in Good Standing at time of payout. Limit of one Offer per eligible Client. This Offer is non-transferable.
** Earn 2% Money-Back Rewards on purchases in two 2% Money-Back Categories of your choice, and 0.50% Money-Back Rewards on all other purchases. Have your Money-Back Rewards deposited into a Tangerine Savings Account, and get a 3rd 2% Money-Back Category. Money-Back Rewards are earned automatically and paid monthly, and can either be applied towards your Credit Card balance or redeemed into your Savings Account.
Applicants will have to consent to a credit check as part of the application process. Accounts must be in Good Standing in order to receive Money-Back Rewards.
The $45 cash back offer is not funded by Tangerine. If you have any queries related to this offer, please contact High Interest Savings Cash Back.