Scotiabank Gold American Express: $60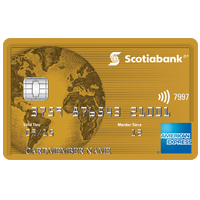 Receive $60 cash back if your application is approved.
Earn 15,000 bonus Scotia Rewards points with your first $1000 in everyday purchases in the first 3 months
Earn 4x Scotia Rewards points for every $1 you spend at eligible gas stations, grocery stores, on dining and entertainment
Earn one point on all other eligible everyday purchases
Complimentary Concierge Services 24/7
Other requirements:
You must not have signed up for a Scotiabank Gold American Express before
You must follow the link from this site and apply for a Scotiabank Gold American Express credit card within the same browser session
To be eligible for the 15,000 bonus Scotia Rewards points offer (this "Offer"), you must have at least $1000 in net purchases (purchases less returns or similar credits) posted to your Scotiabank credit card account ("Account") in the first 3 months from the Account open date. Purchases exclude refunds, returns or other similar credits, payments, cash advances, balance transfers, Scotia® Credit Card Cheques, interest, fees or other charges. The bonus points will appear as an adjustment on your Account statement within 2 statement cycles after the third billing cycle has passed provided the Account is open and in good standing at time of payout. Offer applies to a new Account only opened by February 28, 2019. Former or current Scotiabank credit cardholders that transfer from an existing Scotiabank credit card account or re-open a closed Scotiabank credit card account are excluded from this Offer.
You will earn 4 points per $1 on the first $50,000 in purchases made annually at American Express merchants classified in the American Express network as: Gas Service Stations and Automated Fuel Dispensers; Grocery Stores and Supermarkets; Eating Places and Restaurants, Drinking Places, Fast Food Restaurants; and Entertainment including Motion Picture Theaters, Theatrical Producers, Ticket Agencies, Bands, Orchestras and Miscellaneous Entertainers. Some merchants may sell these products/services or are separate merchants who are located on the premises of these merchants, but are classified by American Express in another manner, in which case this added benefit would not apply. You will earn 1 point per $1 on purchases made after you have reached the 4 points per $1. $50,000 annual spend maximum and on all other purchases made with the Card.
The current annual fee is $99 for the primary card and $29 for each additional supplementary card.
The current preferred annual interest rates for the Account are: 19.99% on purchases and 22.99% on cash advances (including balance transfers, Scotia® Credit Card Cheques and cash-like transactions).
Rates, fees and other information are effective as of March 1, 2018. Offers may change, be extended and cannot be combined with any other offers.
The $60 cash back is not funded by Scotiabank. If you have any queries related to this offer, please contact High Interest Savings Cash Back.