Scotiabank Momentum Visa Infinite: $60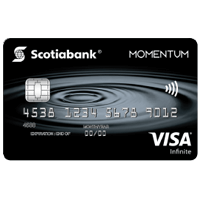 Receive $60 cash back if your application is approved.
No annual fee in the first year

The current annual fee is $120 for the primary card and $50 for each additional supplementary card.

4% on eligible recurring bill payments and grocery store purchases
2% on eligible gas station and daily transit purchases
1% cash back on all other eligible everyday purchases
Comprehensive Travel Insurance & New Mobile Device Insurance coverage
Other requirements:
You must not have signed up for a Scotiabank Momentum Visa Infinite before
You must follow the link from this site and apply for a Scotiabank Momentum Visa Infinite credit card within the same browser session
All other terms of the Scotia Momentum® Visa Infinite Cash Back Program Terms and Conditions apply. Offer applies to a new Account only opened by October 31, 2019. Former or current Scotiabank credit cardholders that transfer from an existing Scotiabank credit card account or re-open a closed Scotiabank credit card account are not eligible for this Offer. All rates, fees, features and benefits are subject to change. Offers may change, be extended and cannot be combined with any other offers.
Individuals who are currently or were previously primary or secondary cardholders of a Scotiabank retail credit card in the past 2 years, including those that switch from an existing Scotiabank retail credit card, as well as employees of Scotiabank, are not eligible for the first year annual fee waiver offer (the "Offer"). Subject to the above exclusions, Scotiabank small business credit cardholders are eligible for the Offer.
Offers may be changed, cancelled or extended and cannot be combined with any other offers.
The $60 cash back is not funded by Scotiabank. If you have any queries related to this offer, please contact High Interest Savings Cash Back.